Come guariscono i bambini dai traumi?
L'esperta di Play Therapy e trauma, Paris Goodyear-Brown, ci porta in un viaggio attraverso le storie di bambini provenienti da luoghi difficili, la neuroscienza del gioco e l'importanza di ognuno di noi nel testimoniare il dolore.
Le immagini grafiche possono evocare forti emozioni, ma riveleranno la straordinaria capacità dei bambini di raccontarci cosa è successo e giocare la loro strada verso la guarigione.
Il video che segue proviene da TEDxNashville del 2018.
Vuoi approfondire il metodo del Trauma Play?
Continua la tua formazione con il corso ondemand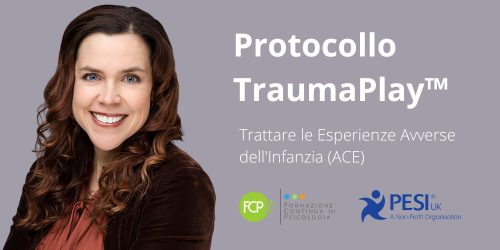 Paris Goodyear-Brown, LCSW, RPT-S, è un'esperta di traumi infantili con 23 anni di esperienza nell'aiutare i bambini traumatizzati e le loro famiglie a guarire. È la fondatrice e direttrice clinica di Nurture House, serve l'Association for Play Therapy in diversi ruoli, è una ricercata oratrice internazionale e un'autrice prolifica. Con aree di specializzazione in abusi sessuali, maltrattamenti e riparazione dell'attaccamento, il suo modello di trauma è meglio spiegato nei suoi libri:
"Play Therapy with Traumatized Children: A Prescriptive Approach"
"Tackling Touchy Subjects"
"Taming the Trauma with Children and Families"
La sua speranza per i bambini feriti è meglio comunicata nel libro per bambini "A Safe Circle for Little U".
Paris vive a Franklin, nel Tennessee, con suo marito e tre figli. Per bilanciare il peso di sostenere le storie difficili di coloro che le sono affidati le piace guidare la sua jeep gialla con i finestrini abbassati ogni volta che il tempo lo permette.